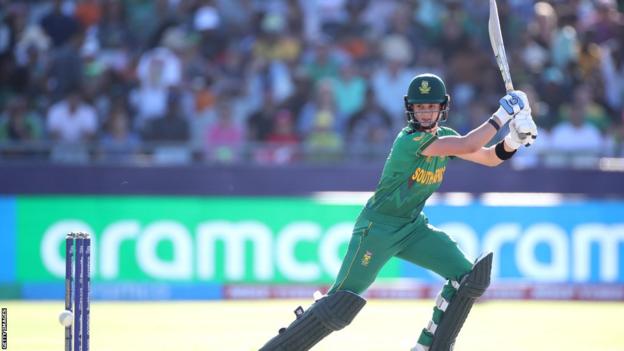 Batter Laura Wolvaardt has said now is the "right time" to "push" the women's game in South Africa, following the team's success at the T20 World Cup.
The tournament on home soil caught the imagination of the South African public, with victories against Bangladesh, New Zealand and England in the semi-finals.
"We didn't expect crowds like that at all and to see how the game sort of helps to unite everyone, they all came together to support us, which was really awesome to see," said Wolvaardt.
"We really felt all of the support on the field – and off the field as well with all of the messages and things like that we were getting."
The 23-year-old, who finished as the tournament's top scorer with 230 runs from six innings, says administrators should now look to strike while the iron is hot.
"This is definitely the right time to try to push the women's game but it would have to be on all levels, from grassroots structures all the way up so as to build a bit more depth coming into our national team.
"I'm really hoping we get a lot more support."
SA20 for women 'would be cool'
The success of South Africa's women at the T20 World Cup followed hot on the heels of the conclusion of the country's inaugural SA20 league.
The franchise competition hopes to compete with other global T20 leagues such as the Indian Premier League and the Big Bash in Australia.
Speaking to the BBC ahead of January's tournament, commissioner Graeme Smith, formerly the Proteas' Test captain, admitted a women's SA20 was still in the planning stage with no date set.
Wolvaardt thinks that is a shame.
"It would be cool if we could have a league," she explained.
"(SA20) was a big success this season. Hopefully we can get our own version as well so that we don't fall too far behind countries like in Europe and Australia who all have their own leagues."
Even in the absence of a high-profile T20 competition, Wolvaardt has begun to see the impact of her success on youngsters in her hometown.
"I've been getting so many messages from people around Cape Town saying that their daughters are keen to take up cricket at school now.
"Hopefully we helped inspire a lot of young girls through the tournament."