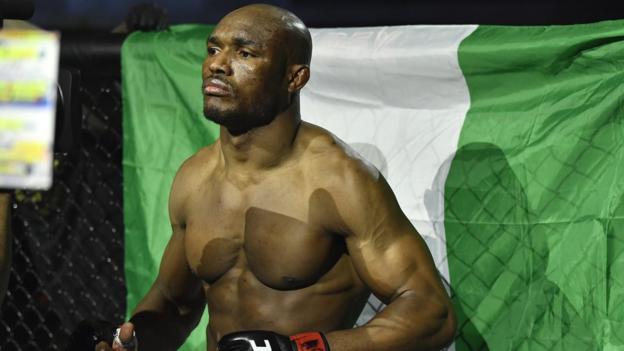 Nigeria's Kamara Usman has described himself as "extraordinary" and says he is "just having fun" as he bids to regain his UFC welterweight title when he fights Leon Edwards for the third time on Saturday.
He was knocked out late in the fifth round of the bout in Salt Lake City, allowing Edwards to become just the second British UFC champion.
The third fight at UFC 286 at London's O2 Arena has been billed as the biggest British MMA fight in history – and Usman says that means the pressure is all on the home fighter.
"It's win or bust for him. I've been champion," he told the BBC.
"I've dominated the division, including him. I was in a position to be like, what else is left?
"He's a good fighter, he's got great technique. The finishing technique (in August's second fight) I thought was beautiful, I've always said that. It was beautiful, the kick, the recoil, it was just poetry. I appreciate it.
"But he is not a better mixed martial artist than me."
'A fun Usman is a dangerous Usman'
Having entered the Ultimate Fighting Championship (UFC) in 2015, Usman was undefeated in 15 previous bouts until August's knockout by Edwards.
Rather than focusing on revenge, he claims he is staying relaxed when it comes to retaking his crown.
"It's not win or bust for me," he explained.
"I definitely stand by my legacy. I've done everything, now I'm just having fun.
"A fun Usman is a dangerous Usman."
The man they call the "Nigerian Nightmare" also insists he isn't worried about Edwards claims of mental scars lingering from their previous meeting.
"I guess he's speaking from an ordinary perspective. He's around ordinary people who have done ordinary things and he thinks ordinary things.
"But I'm not ordinary, I'm extraordinary.
"When he's sat at home, whether he's sad or happy, he tasted the belt for at least six months and now it's gone, he's going to say, 'damn that guy was extraordinary'."
'I want to break them'
Thousands of fans will cram into the sold-out arena to support Britain's Edwards on Saturday but Usman says he is looking forward to taking them on as well.
"The one thing that I've always loved is being able to go into someone's backyard and silence the crowd.
"I think I get more joy from that than anything else.
"I've always said, when I go to compete, I go to compete with their minds and their heart. I want to break them.
"It's a little extra when you go into their home and you take it form them in their home."
Born in Auchi in Edo State, Nigeria, Usman often credits his early upbringing, before the family moved to the United States when he was eight years old, with helping his career.
"I never knew we were poor just because we farmed," he explained.
"I never knew we were poor because my mom and dad and three boys lived in a one bedroom apartment – I never knew and never cared.
"When you're growing up in a certain situation which might not be as glamorous as many, you're a kid. That's all you know.
"You find the beauties in that."