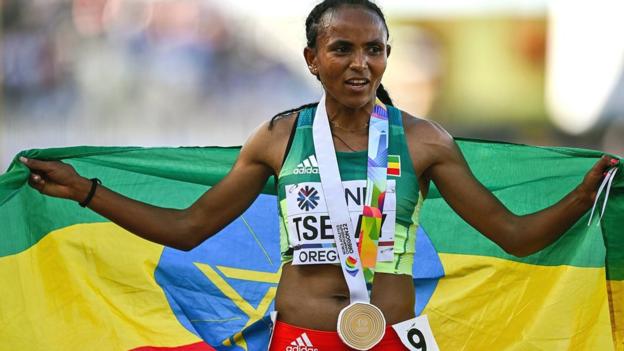 Ethiopia's Gudaf Tsegay's world title in the 5000m is the biggest achievement of her decade-long career, but as she stood on the podium to receive her gold medal last July she was going through a personal crisis.
The 25-year-old had not spoken to her parents and siblings for months.
Tsegay is from Tigray, a region in northern Ethiopia that was the epicentre of the country's recent civil war between November 2020 and November 2022, with government troops battling Tigrayan forces fighting for independence.
The conflict claimed hundreds of thousands of lives, making it one of the deadliest of the 21st century.
As it began, the roads to Tigray were closed and a government-enforced communication blackout shut down telephone and internet services.
"Not being able to talk to a father and brothers who had been advising you to strive and achieve more success every day is very difficult. It is even hard to explain," Tsegay told BBC Sport Africa.
"I didn't talk to them for 18 months."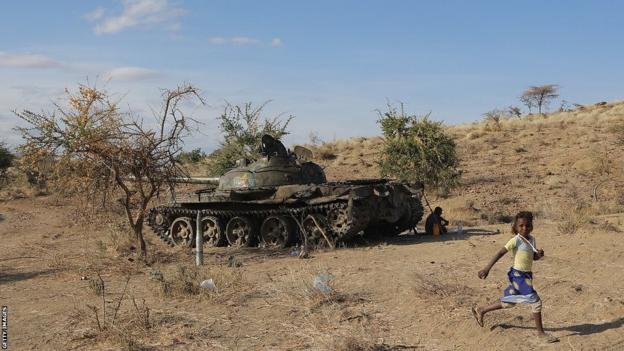 The struggle for success on the track
Despite the separation and anxiety, Tsegay continued training in the country's capital Addis Ababa with her husband, who is also her coach, Hiluf Yihdego – her pillar of strength during a difficult period.
"He is my husband at home and coach in the field. He helped me a lot when I was sad, he was right by my side," says Tsegay.
Their hard work paid off in last year's major competitions. On top of the outdoor world title claimed in Eugene, Oregon, she also claimed a first indoor world title in the 1500m.
"I am successful because I worked hard despite all the challenges. I celebrated my achievements with my husband and friends."
"For an athlete to consider oneself successful it is to win the Olympics and World Championships – that was my dream and I achieved it."
After crossing the finish line to claim her world title in Eugene, Tsegay was hoisted into the air by a man who had invaded the track carrying a red and yellow flag, a symbol of the Tigray region.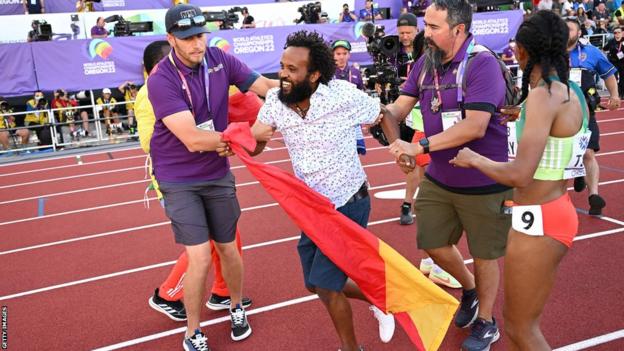 He was part of a group that marched around the venue, Hayward Field, after the race in a bid to raise awareness of the war.
That was in the United States – but the conflict had come to Tsegay's own doorstep.
Terror in the night
Late one night in December 2021, Tsegay and her husband were woken from their sleep by government forces who took Yihdego away.
More than a year on, she tearfully recalls the terror from that night.
"It was a very painful experience because I never thought this would happen as I am an athlete. We only know sport, not politics.
"I cried the whole night. I was worried they would come back to take me whenever there was a knock on the door."
Unable to focus properly, in February 2022 the indoor specialist cancelled a race in France, one that had been earmarked for something special.
"I was getting ready to run a world record and I was in good form," Tsegay explains.
Yihdego was released after a day but he says it was a frightening experience as soldiers claimed he was 'junta', a term used by government forces for Tigrayan fighters and anyone working with them.
"20 soldiers came to my house in the middle of the night," he told BBC Sport Africa.
"They accused me of supporting the Tigray People's Liberation Front, sending Tigrayan athletes abroad, and storing dollars at home.
"They searched my house; it seems easy to speak about it now but it was challenging."
The couple say they are glad the ordeal is behind them.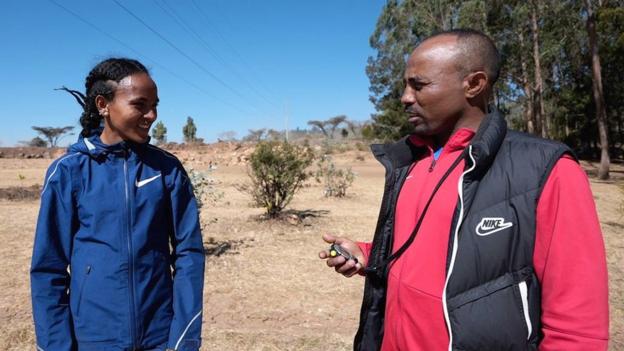 Wait goes on despite peace deal
In November last year a peace deal was signed in South Africa between the Ethiopian government and Tigrayan fighters.
As communications were restored, Tsegay was finally able to reach her family to share her joy from a successful season.
"After the peace agreement my family called and expressed their happiness," she says.
"It would have been great if my parents had seen me and been with me. They told me later they watched the race and cried."
Tsegay has now visited Tigray, travelling there in January when the Ethiopian Athletics Federation arranged for athletes to go to Mekelle, the region's capital city.
Tsegay got to see her friends – but sadly not her family.
"I knew I wasn't going to meet my family because it was a sudden trip," she explains.
"My family is in rural areas, I couldn't tell them where and when I was going in advance, but visiting my home area and meeting my friends was very good."
An Olympic dream
Tsegay hopes she will see her family in person soon, even as she prepares for a busy outdoor season, with May's Diamond League meet in Doha expected to be her first port of call.
A blistering start to the year has already seen more success indoors, running the second-fastest time in the mile and coming within 0.09 seconds of the 3000m indoor world record.
However, her main target for 2023 is defending her 5000m title at August's World Championships in Budapest, although she is also looking further ahead to next year's Paris Olympics.
"I want to win the World Championships again," she confirms.
"I am an indoor champion, I am a world champion, but when it comes to the Olympics, I am a medallist [bronze in the 5000m in Tokyo], not a champion.
"So I want to become one. I believe I can achieve my goal."