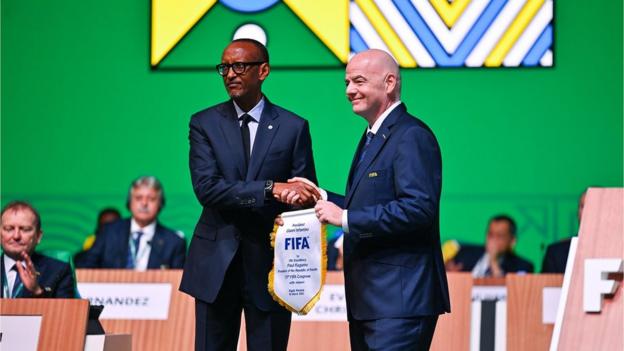 Thursday's Fifa congress threw up a host of possibilities for football's future as Gianni Infantino mooted a salary cap, a so-called Fifa World Series, a Club World Cup for women and equal pay for both genders at the World Cup.
The move has been welcomed by many, including former Cameroon international Geremi.
"For me, it's very, very big news," the former Real Madrid and Chelsea midfielder told BBC Sport Africa.
"In Africa, we don't have enough competitions and to be a professional, you need to start young."
Geremi played at every youth level for Cameroon, winning the African U17 title, and he explained how playing in an Under-14 tournament overseas completely changed his mindset.
"I started with an Under-14 competition in France. It was my first time to travel to Europe and when I came back, I was like another person."
"For a youth to play at this level, it makes you become a mature player at the age of 20 or 21, which is very important."
He also believes that giving more of the continent's youngsters the chance to shine in such competitions "will see more Africans playing for big, big clubs".
The announcement regarding the U17 World Cup aligns with Fifa's announcement of a Talent Development Scheme, propelled by $200m of investment from football's governing body over the next three years.
Spearheaded by former Arsenal coach Arsene Wenger, Fifa aims to install academies in every country around the world by the end of 2026.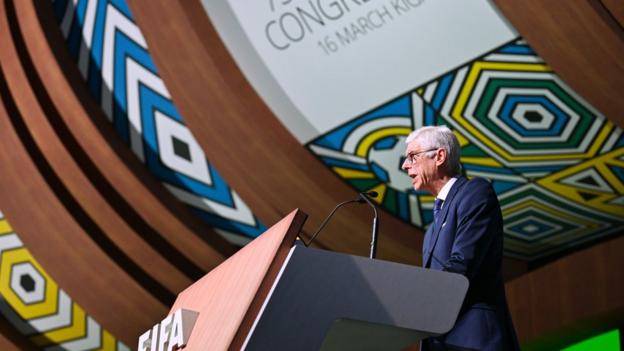 "We have created an U17 World Cup every year so that we don't lose a generation since a 16-year-old (often) can't get into a U17 team," Wenger said at the congress in the Rwandan capital, Kigali.
"You need to start young enough, and that for me means 12. I believe when you equip a player with the technical tools, competition at 17 years of age becomes important."
Historic congress in Africa
Although Africa has held three previous Fifa congresses, Thursday's was the first elective one on the continent – and it began with Infantino explaining how the Rwandan genocide partly inspired his initial bid to run Fifa.
Recalling how he had been told while attending the African Nations Championship final in February 2016, a month before the Fifa presidential elections, that many African FA's would not support him, he said a visit to Kigali's genocide memorial served as inspiration.
"I said to myself, 'Who am I to give up after what this country has suffered?', and how this country came back up is inspiring for the entire world, so I certainly couldn't give up," Infantino said.
The decision to bring the congress to Kigali was appreciated by the African representatives in attendance, with former Nigeria international Jay-Jay Okocha calling it a "huge advert for Africa" and Rwandan president Paul Kagame telling the floor it was a "great honour".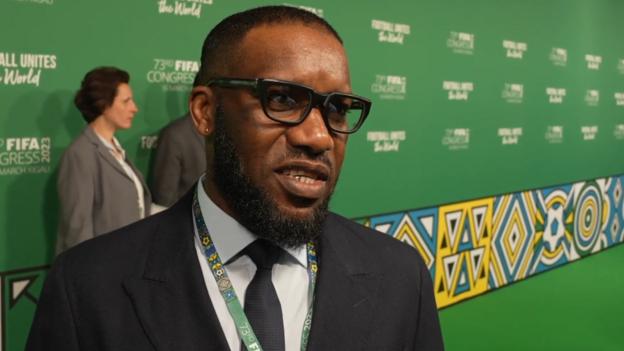 It proved a good week for Kagame who was awarded – alongside King Mohammed VI of Morocco – an outstanding achievement award by the Confederation of African Football (Caf).
Both leaders were praised for the investment made in their respective countries' football, with Caf keen to highlight their work in a bid to inspire others.
"It's a very important issue," Caf president Patrice Motsepe told BBC Sport Africa.
"In order to realise the full potential of football on the continent and to develop and grow, we need partnerships with the private sector, but also with governments.
"And those partnerships must contribute to building stadiums, football pitches, infrastructure for football, as well as other sports."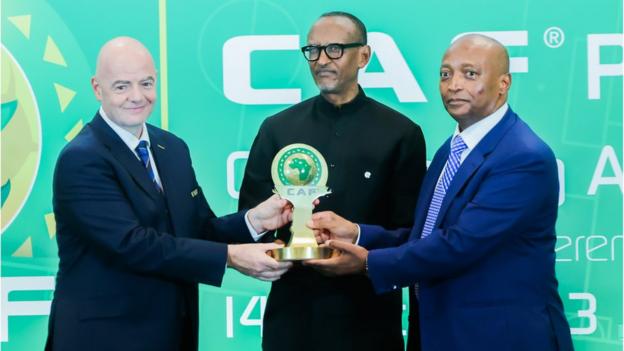 Caf secretary general Veron Mosengo-Omba said that for many African countries, particularly the larger ones, the annual Fifa grant of $2m is simply not enough to allow for extensive investment in football.
"In Africa, the governments are doing a lot for our teams and clubs to survive – which is why we would like to bring this to light," he told BBC Sport Africa about the awards.
The hope is that other leaders will be incentivised to follow suit, and thus possibly follow Morocco who became the first African country to reach the World Cup semi-finals last year in Qatar.
Sponsors 'set to return' as Lagardere dispute calms
Since taking charge of Caf in 2021, Motsepe has repeatedly called for investment from the private sector – and Mosengo-Omba says Caf's improved governance is slowly persuading sponsors that they can invest in the continental game.
One obstacle since 2019 was Caf's unilateral cancellation of the billion-dollar marketing deal with French sports media agency Lagardere, which has ultimately cost the African body $50m in a settlement fee.
Although the deal with Lagardere was cancelled, the only broadcaster to pull out of their relationship with Caf was South Africa's SuperSport, which withdrew shortly after the November 2019 decision.
That means beIN, whose contract is worth $400m, and Total have, among others, maintained their contracts, and Mosengo-Omba says Caf should be due some backdated payments in future given that the legal row with Lagardere has now been resolved.
"Most of the sponsors had been saying 'we are not going to trade with you now because of the Lagardere case' – but now that's solved," explained the Congolese.
"Now the context is favourable for any kind of discussion with potential sponsors."
Caf, which will now handle its own media rights distribution, is splitting its payment to Lagardere, with $25m having been paid earlier this year and another $25m to follow in late 2023.
"Caf has changed," added Mosengo-Omba. "We are implementing very strict principles of governance.
"Most of our sponsors are knocking on the door because they believe in our changes, not just in terms of the structure of the governance but also on the field of play – so Caf is back."