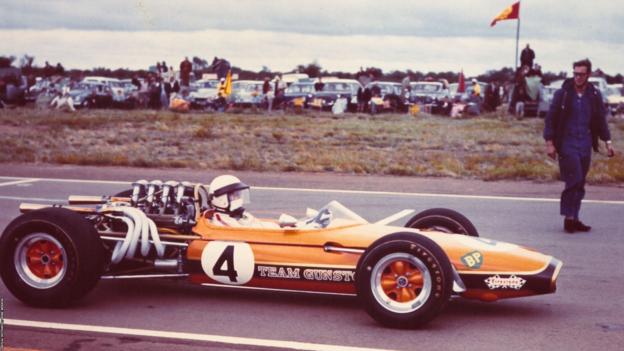 In the third part of BBC Sport Africa's series examining the history of South African Grand Prix racing, Ben Sutherland looks at how one team changed the look of F1 racing.
The lights are out and the 2023 F1 season is under way, with new cars bedecked, as ever, with bright sponsor logos to catch the cameras.
Companies like Cognizant, BWT and Petronas have paid millions for their names to be on sidepods and rear wings seen around the world.
When current constructors champions Red Bull bought out the old Jaguar team in 2004 their first paint job – used only in testing – literally resembled one of their drinks cans.
This riot of corporate colour began over 50 years ago with one tiny, little-remembered South African team that competed in only seven World Championship races – and failed to score a single point.
This is the story of Team Gunston.
Revolution in orange and brown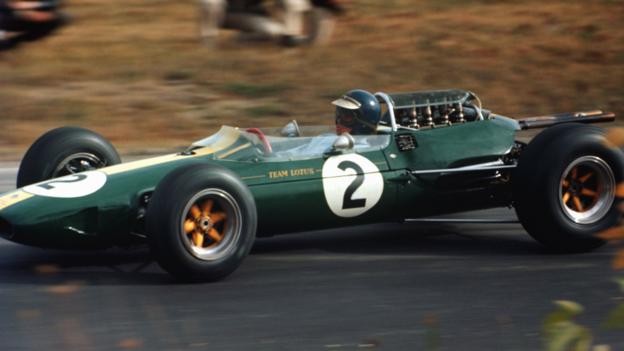 When the F1 World Championship was set up in 1950, all the teams competed in the racing colours of their countries: red for Italy, which is why Ferrari still race in scarlet; white for Germany; blue for France; green for the UK – a tribute to Ireland's national colours, in honour of an early period in motorsport history in which Ireland permitted races on public roads, something that was banned on mainland Britain.
While sponsorship was allowed around the circuits, motorsport's governing body, the FIA, banned logos on cars.
This was all to change at the non-championship Rhodesian Grand Prix in Bulawayo on 3 December 1967. That summer's day in Zimbabwe a car was unveiled that would revolutionise Formula 1.
The custom Brabham BT20 wasn't faster, it didn't handle better, nor was it more technologically advanced.
Its difference was in the colour.
The orange and brown paintjob was not from a national flag or emblem, but from the hues of the South African cigarette company Gunston.
Gunston was part of the Rembrandt group, set up by tycoon Dr Anton Rupert. Aptly, he had started his career making cigarettes in his garage in Stellenbosch.
His company became a market leader in South Africa after he invented the king size cigarette filter, helping Rupert to become one of the continent's richest men.
However, the mid-1960s was when the dangers of smoking were finally becoming clear. A devastating report by the US Surgeon General in 1964 had shown a definitive link between smoking and diseases like lung cancer and bronchitis.
As a result, Gunston were looking to attract rather more positive publicity. And at a time when South Africa had its own thriving domestic F1 championship, they hit upon the idea of putting their name on a racing car.
Love's machine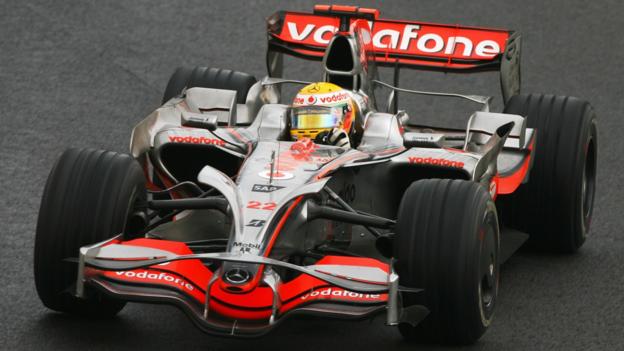 By putting together leading SAF1 drivers John Love and Sam Tingle – who owned their own machines – and painting those cars in brand colours, Team Gunston was formed.
To Gunston's delight, Love – already well established as the dominant force in the SAF1 championship – went out and won the race in Bulawayo, although Tingle spun off.
Their attention then immediately turned to the full F1 South African Grand Prix barely four weeks later, on New Year's Day 1968. During the previous season Love had astonished the F1 world by nearly becoming the first privateer to win a Grand Prix. What might he do a year later? Could pictures of an orange and brown car with Team Gunston written on its nose soon be on every newspaper back page?
In the event, no. Love qualified 17th but finished only ninth, five laps down.
But while Team Gunston might not have garnered international fame, there were some people in the F1 paddock who were paying very close attention.
One in particular was Colin Chapman, the manager and genius behind Team Lotus.
Cash flow crisis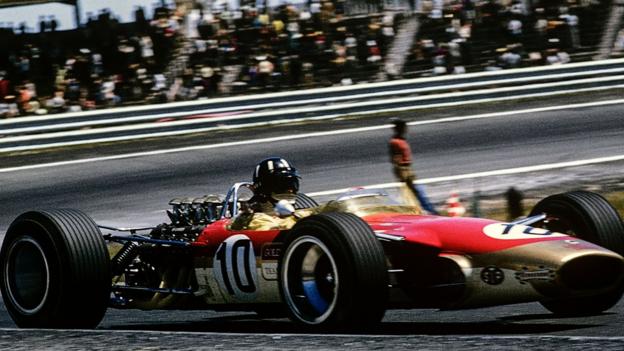 Whilst Gunston struggled, Lotus had scored a 1-2 that day in South Africa, with winner Jim Clark coming in nearly thirty seconds ahead of team-mate Graham Hill. But alongside this, Chapman was also thinking about the car that had finished ninth in the orange and brown colours of a South African cigarette company.
At the time, there was a funding crisis in the sport. Oil giants BP and Shell had withdrawn from F1, while Firestone had stopped supplying free tyres. Due to this shortfall, the FIA lifted their outright ban on sponsorship.
Three weeks later, Clark was racing in a Lotus again in the Tasman Series, the Australian version of the SAF1 championship.
But his car was no longer green and yellow. It was in the red and gold of Gold Leaf Tobacco.
Dream over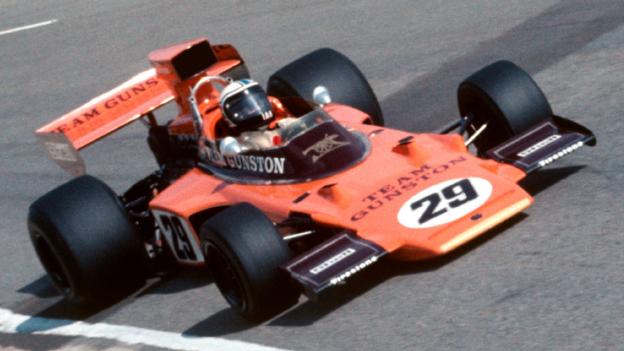 It was not a smooth start for Lotus' new colours. The Tasman organisers were shocked and asked that the Lotuses be repainted. Chapman threatened to pull out and, faced with the loss of their star names, organisers relented.
Then British broadcaster ITV objected when Lotus arrived at the non-championship Race of Champions, threatening to cancel their broadcast.
Ultimately, Chapman appeased them by taping over the sailor's head on the Gold Leaf logo.
Despite these early hitches, the link between tobacco companies and Formula 1 was gaining momentum. By 1970 the BRM team had attracted Marlboro, and every title-winning car between 1984 and 2007 carried the branding of a major smoking brand
In this era, critics of the sport dubbed the cars "mobile cigarette packets".
But it wasn't only tobacco companies getting in on the action.
British fridge-makers LEC ran a car, as did Brazilian sugar company Copersucar. Haulage boss Ted Toleman set up a team to promote his trucking firm, employed a Brazilian rookie driver called Ayrton Senna and got bought out by Italian clothing company Benetton.
As TV audiences grew so did the money flooding in from sponsorship, propelling Formula 1 from a niche petrolhead pursuit to the global sporting behemoth it is today.
The grid swelled so much that by 1989 there were 20 teams and 40 drivers.
But by then, there was no Team Gunston on the starting line. The pioneers of racing car sponsorship only had enough money to take part in one World Championship race a season – their home one. Their last lap was in 1975 when they finished 11th and 13th.
Team Gunston continued in other categories of motorsport until 1982 but their F1 days had ended after seven races and zero points.
But they had paved the way for a revolution in branding, colour and money that lasts to this day.