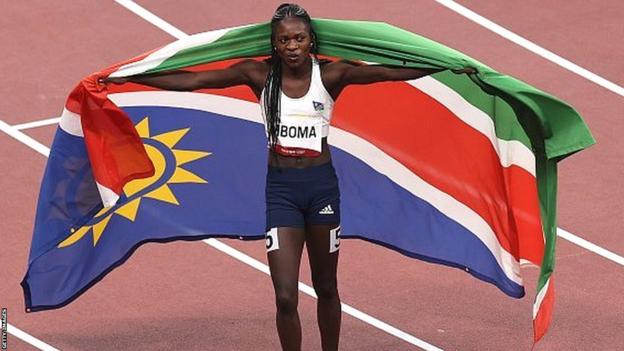 The coach of Olympic 200m silver medallist Christine Mboma is "shocked" by changes to the rules for female athletes with high testosterone – a decision which rules the Namibian out of this year's World Championships.
"It was a bit of a shock, receiving it without any prior notice once again," Henk Botha told BBC Sport Africa.
DSD is a group of rare conditions whereby a person's hormones, genes and/or reproductive organs may be a mix of male and female characteristics. Some of those affected prefer the term "intersex".
Botha added: "The rumours were running through the whole [of] Europe and some of the people were telling me this is coming. World Athletics haven't contacted anybody."
Under the new rules, DSD athletes will be required to reduce their blood testosterone level to below 2.5 nanomoles per litre – half of the previously accepted level of five nanomoles.
Athletes must also remain under this threshold for two years in order to compete internationally in the female category in any track and field event.
The new rules now encompass all track events, a change from previous restrictions which only affected events ranging from 400m to a mile.
However, interim provisions will be put in place for DSD athletes already in competition outside the previously restricted distances.
They will only be required to supress their testosterone levels for six months before competing in any World Athletics-sanctioned event.
But this still does not allow enough time for Mboma, and others, to comply before August's World Championships in Budapest, Hungary.
According to Botha, the 200m World Under-20 champion remains "positive" despite the news.
"Christine knows about the updated rules and we've discussed it. She's positive and we will keep on training."
When announcing the changes, World Athletics president Lord Coe said 13 DSD athletes will be affected by the decision to include all track events in the updated regulations, seven (55%) of whom compete in running events above a mile, with six (45%) in sprinting events below 400m.
He confirmed none of the 13 will now be able to compete in Budapest, but will be eligible for future events, including the Paris 2024 Olympics, "if they maintain their testosterone at the required level".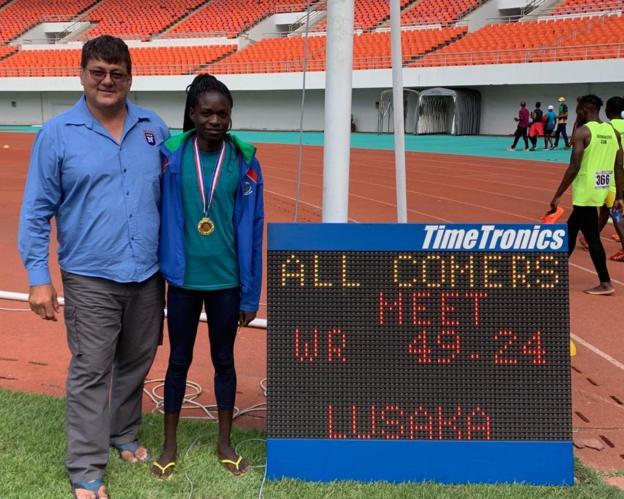 African athletes ruled out
Mboma, who was named BBC Africa Sports Personality of the Year for 2021, is not the only African to be impacted by the new rules.
Fellow Namibian sprinter Beatrice Masilingi, who finished fourth behind Mboma in the 200m final at the Tokyo Olympics, will also be ruled out of competition.
So too Niger's African champion Aminatou Seyni, who was fourth in last year's 200m World Championship final in Eugene, Oregon, and Burundi's Francine Niyonsaba, a silver medallist in the 800m at the 2016 Olympics in Rio de Janeiro.
But perhaps the most high-profile exclusion involves South African Caster Semenya, who refuses to take drugs to lower her natural testosterone levels.
The double 800m Olympic and world champion fought a legal battle with World Athletics over DSD rules but was eventually forced to move away from her preferred distance to events like the 5000m in order to keep competing.
She finished sixth in the 5000m at last year's African Championships, failing to qualify for the World Championships in Eugene.
Like Semenya, Mboma's team say they will now consider all options, including legal action.
"For us, this is an obstacle not the end," Botha said.
"Challenging World Athletics in the court, obviously, is expensive and a long thing. We need to go and look at every single option on the table and take it from there.
"My own opinion is [that] it's time for the world to stand up against things like this and the way this has been handled."