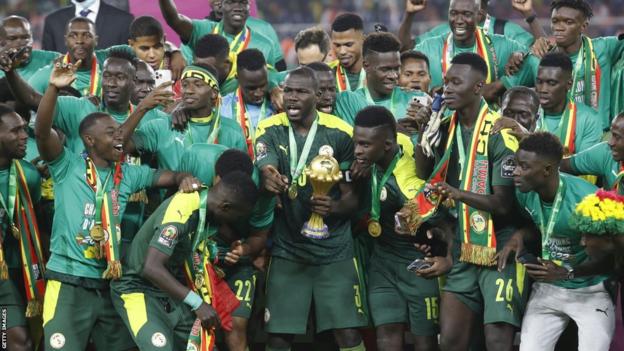 Rounds three and four of qualifying for the next Africa Cup of Nations take place over the next eight days as 45 nations bid to reach the next edition of the tournament which will take place in Ivory Coast starting in January next year.
Five countries have won both their opening games, including World Cup semi-finalists Morocco and reigning champions Senegal.
The top two from the 12 groups of four go through to the finals – except in Group H where hosts Ivory Coast qualify automatically and the three other teams are playing for one place.
Two groups have also been reduced to three countries because of Fifa bans for Kenya and Zimbabwe.
BBC Sport Africa takes a look at how the group phase is unfolding.
GROUP A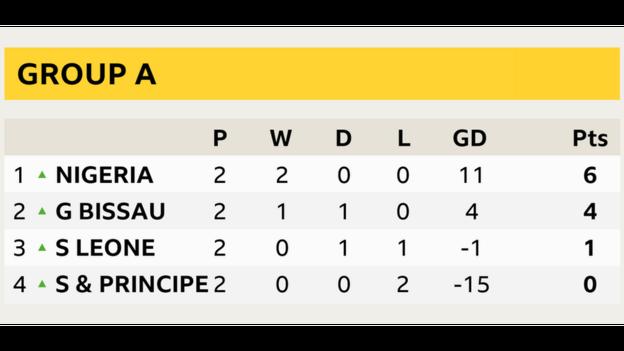 Nigeria beat Sierra Leone 2-1 at home and then crushed Sao Tome and Principe 10-0. Super Eagles striker Victor Osimhen is the tournament's leading scorer with five goals.
Nigeria's West African neighbours Guinea-Bissau have also made a good start to their campaign with a win at home to Sao Tome and Principe and a 2-2 draw away to Sierra Leone.
22 March: Sierra Leone v Sao Tome and Principe
24 March: Nigeria v Guinea-Bissau
26 March: Sao Tome and Principe v Sierra Leone
27 March: Guinea-Bissau v Nigeria
GROUP B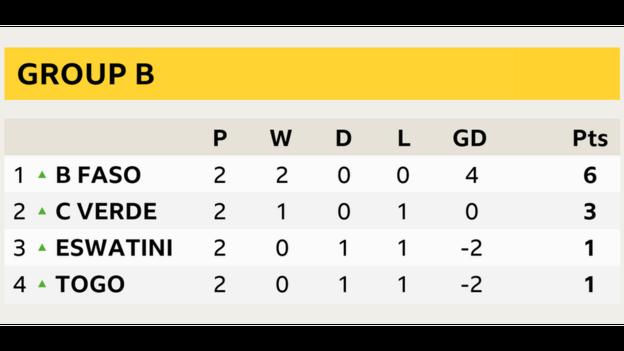 Burkina Faso, who reached the final in 2013 and semi-finals last time out, opened up with a win over Cape Verde and then came from behind to beat Eswatini.
Cape Verde reached the last 16 of the previous Afcon in Cameroon before losing to eventual champions Senegal. They recovered from losing their first game by beating Togo.
24 March: Burkina Faso v Togo / Cape Verde v Eswatini
28 March: Togo v Burkina Faso / Eswatini v Cape Verde
GROUP C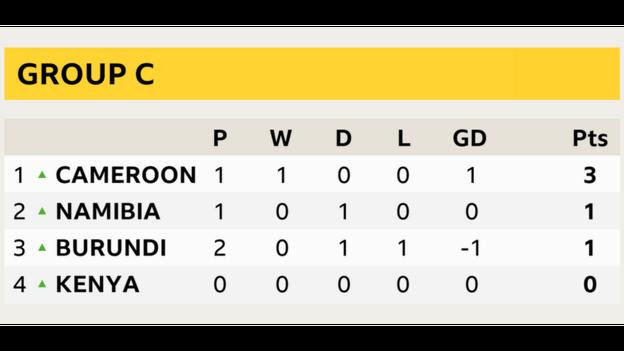 The three teams in Group C are competing for two places after Kenya were disqualified following their suspension by Fifa because of governmental interference in the country's football federation.
Five-time winners Cameroon, under coach Rigobert Song, took charge of the group with a 1-0 victory in Burundi in their only outing so far.
23 March: Cameroon v Namibia
28 March: Namibia v Cameroon
GROUP D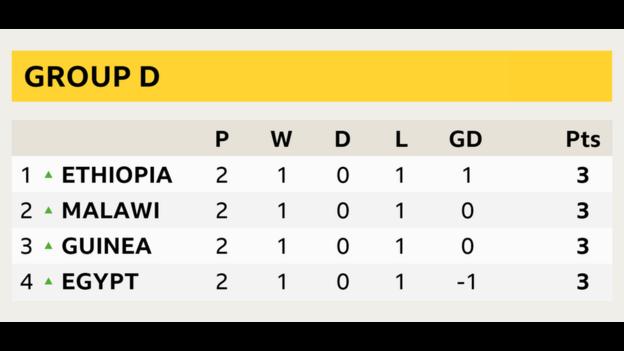 This is the tightest of the 12 groups as all four teams have three points after two rounds.
The highest ranked team in Fifa's global list is Egypt, but the Pharaohs are bottom on goal difference after a win over Guinea and a 2-0 defeat away to table-toppers Ethiopia, who took part in the inaugural Afcon in 1957 but have only qualified twice since 1982.
Elsewhere, Malawi beat Ethiopia but then lost to Guinea, leaving the group all to play for.
24 March: Guinea v Ethiopia / Egypt v Malawi
28 March: Ethiopia v Guinea / Malawi v Egypt
GROUP E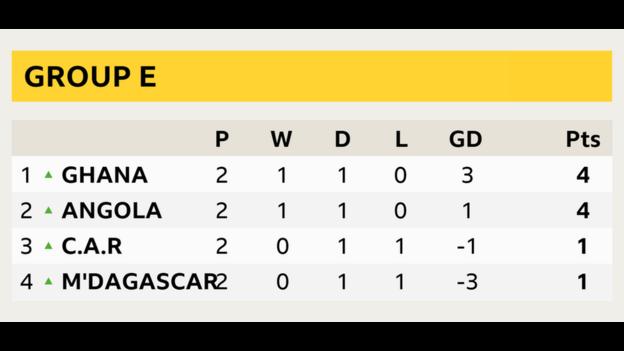 The first games for new Ghana coach Chris Hughton will be a double-header against second-placed Angola.
The Black Stars eased their way past Madagascar in their opening game but were then held to a draw away to Central African Republic.
Madagascar reached the quarter-finals of Afcon in 2019 – their one and only appearance so far in the tournament – and will be hoping to make up ground in their two games against Central African Republic.
23 March: Madagascar v Central African Republic / Ghana v Angola
27 March: Central Africa Republic v Madagascar / Angola v Ghana
GROUP F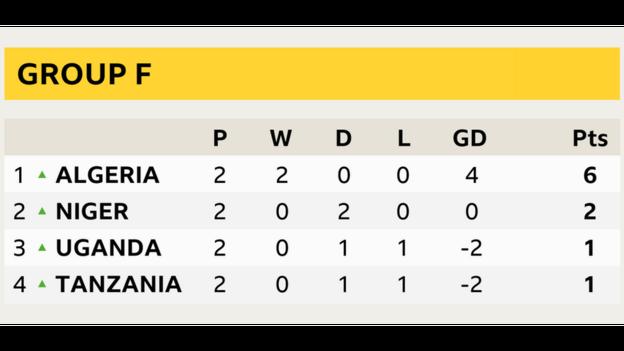 Algeria are aiming for their twentieth Afcon appearance and the 2019 champions have yet to concede a goal in their two victories at home to Uganda and away in Tanzania.
Niger are also unbeaten but have drawn both their games and have Uganda and Tanzania breathing down their neck as they prepare to face Algeria.
Tanzania are now under new management, having appointed Algerian Adel Amrouche who has also previously coached Kenya, Burundi, Libya and Botswana.
23 March: Algeria v Niger
24 March: Uganda v Tanzania
27 March: Niger v Algeria
28 March: Tanzania v Uganda
GROUP H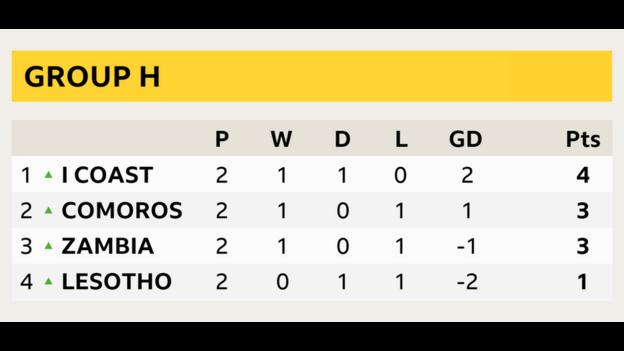 The decision to include hosts Ivory Coast in the group stage was made to give them match practise so they don't go into the tournament at a disadvantage having played less competitive football.
Of the other countries fighting for the one open qualifying spot in Group H, 2012 champions Zambia are best placed after a 2-1 victory over Comoros, thanks to a late winner from midfielder Kings Kangwa.
23 March: Zambia v Lesotho
24 March: Ivory Coast v Comoros
26 March: Lesotho v Zambia
28 March: Comoros v Ivory Coast
GROUP I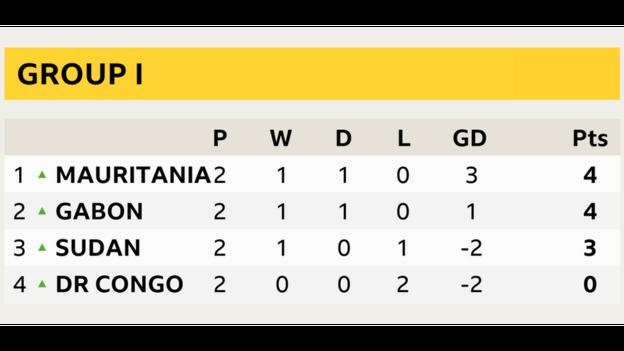 Group leaders Mauritania have yet to concede a goal as they bid to reach their third Afcon.
Gabon also have a win and a draw from two outings.
DR Congo's disappointing performances so far mean the Leopards have ground to make up after losing their first two games in which they have scored only once.
23 March: Gabon v Sudan
24 March: DR Congo v Mauritania
27 March: Sudan v Gabon
29 March: Mauritania v DR Congo
GROUP J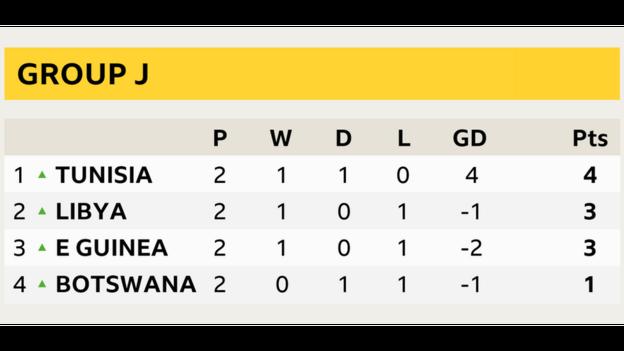 Group leaders Tunisia, who have only won the tournament once, when hosting in 2004, made an excellent start with a 4-0 win at home to Equatorial Guinea but were then held to a goalless draw by Botswana.
Libya, who have recently changed their coach, also found it tough going against the Zebra's but won the game by a single goal, only to then lose away to Equatorial Guinea.
24 March: Equatorial Guinea v Botswana / Tunisia v Libya
28 March: Botswana v Equatorial Guinea / Libya v Tunisia
GROUP K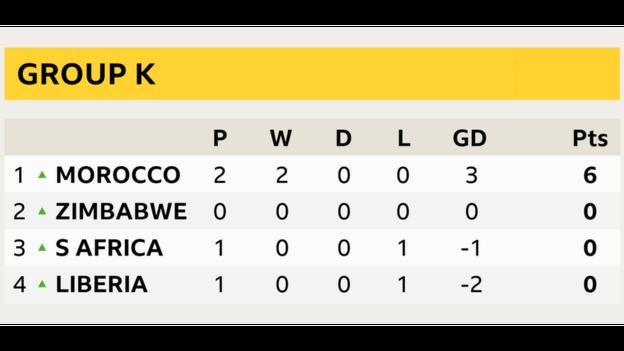 Morocco, riding a wave of confidence after their World Cup heroics, have won both their games and are in charge of the group. Without a game in this round of qualifiers, they have a friendly lined up against Brazil.
This week's double header between South Africa and Liberia could be decisive in the race for second place.
Like Kenya, Zimbabwe are also serving a Fifa suspension and have been disqualified.
24 March: South Africa v Liberia
28 March: Liberia v South Africa
GROUP L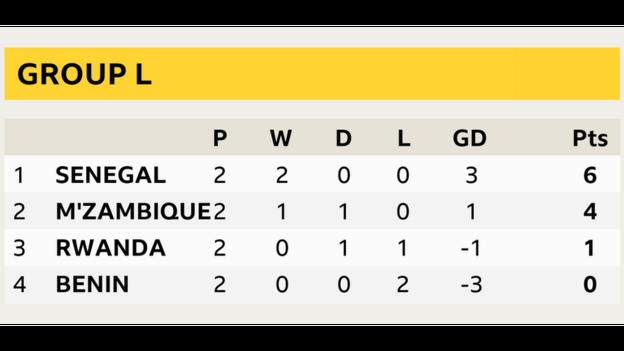 Defending champions Senegal have taken charge of this group, with Sadio Mane scoring four goals, and face closest rival Mozambique in a home and away double-header.
Benin, who recently appointed former Nigeria, Gabon, Niger and Burkina Faso coach Gernot Rohr, reached the quarter finals in 2019 but have lost both games so far. They have also ditched their infamous "Squirrels" nickname.
The matches against Rwanda, who have a loss and a draw, are crucial for the team now known as "The Cheetahs".
22 March: Benin v Rwanda
24 March: Senegal v Mozambique
27 March: Rwanda v Benin
28 March: Mozambique v Senegal