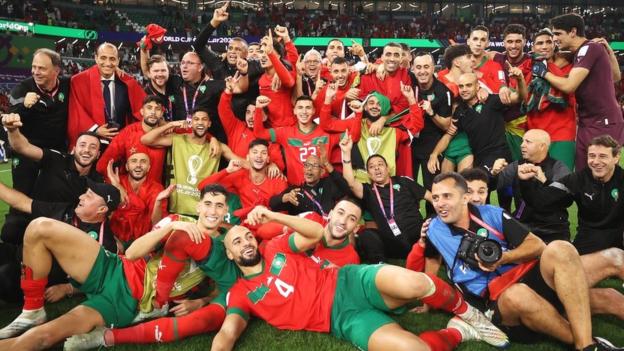 Morocco's sports minister has said he is "confident" now is the "right time" for the country to launch a sixth attempt to host football's men's World Cup.
"It's a natural bid – Spain, Portugal and Morocco have close ties," Chakib Benmoussa told BBC Sport Africa in the Rwandan capital, Kigali, where Morocco's part in the bid was announced last week at World Cup organisers Fifa's annual congress.
"[Spain and Portugal] have invested a lot in infrastructure and in developing football and we think the bid has a lot of chance."
Morocco joining its two European neighbours makes this the first confirmed transcontinental bid in World Cup history.
"Geographically, distances are closer than other groups where we are and which will organise the World Cup in future," Benmoussa explained.
"We are confident that it will be the right time."
South Africa is the only African nation ever to win the right to host a World Cup, holding the 2010 edition after beating, among others, Morocco and Egypt in the bidding process.
"I think it is a unique proposal," South Africa Football Association president Danny Jordaan, the man who led organisation of the 2010 tournament, told BBC Sport Africa.
"Portugal and Spain are members of Uefa and Morocco is a member of the Caf, so it brings together for the first time in the history of world football two continental bodies."
"We want to wish Morocco well, and of course Portugal and Spain will give them a significant boost."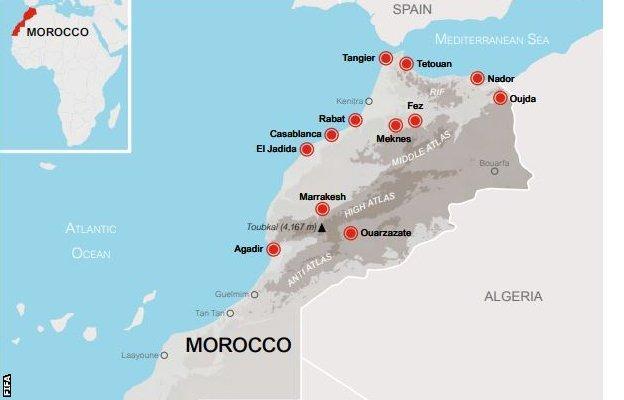 Moroccans confident
Morocco's failed bids have all come in the last 30 years, having previously put their hat in the ring to host World Cups in 1994, 1998, 2006, 2010 and 2026.
But this is a first joint bid, something which is raising hopes inside the country itself, according to Moroccan football journalist Amine El Amri.
"People are generally really confident compared to the other bids in the past," he said, pointing to the expansion of the competition due to take place in 2026 when the USA, Canada and Mexico will also join forces as part of a tri-nation bid.
"With the passing of time and the passing of bids, the general public in Morocco have understood that it doesn't need to be as costly as it is for one country to host the World Cup, especially a format where there are 48 teams instead of 32."
"Especially because the other two partners, Spain and Portugal, have infrastructure (and) logistics to help Morocco, so I think it's a very strong bid."
Morocco's recent performance in Qatar could also boost their chances, having become the first Africans to reach the semi-finals of a World cup – a success that was attributed to the country's development at all levels of the game.
Morocco also successfully hosted last year's Women's Africa Cup of Nations with the Atlas Lionesses reaching the final where they lost to South Africa.
A centennial rival
The Morocco-Portugal-Spain proposal is one of two confirmed bids for 2030, taking on another multi-nation pitch from South America featuring Argentina, Chile, Paraguay and Uruguay.
Uruguay hosted, and won, the first World Cup in 1930, a fact that makes the 2030 edition a centennial anniversary, something that will lend their bid stronger sentimental value.
For now at least, Benmoussa has refused to be drawn on the opposition.
"We don't know all the groups who will be bidding.
"We work until next year, maybe spring 2024, before knowing all the competitors, but of course we have to do our best to have the best bidding documents."
A split in African support?
The waters could yet be muddied further by another potential North African challenger, with an additional multi-nation being mooted – but this time one that spans three continents, with speculation that Egypt could team up with Greece and Saudi Arabia.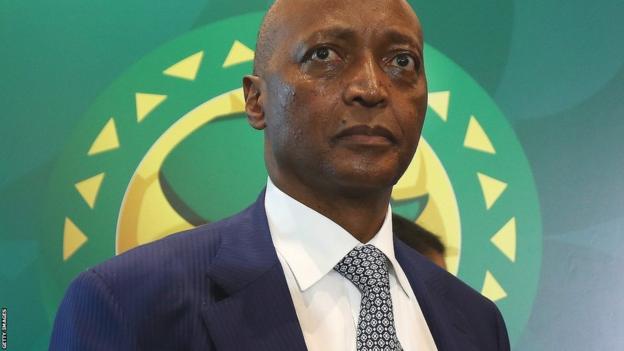 So could the support of Fifa delegates in Africa be split? Not according to the man in charge of African football, Patrice Motsepe.
"From an African perspective, we really want to make sure that an African nation is indeed part of a successful bid," the president of the Confederation of Africa Football (Caf) told BBC Sport Africa.
"We will engage and make sure that we don't get our votes dispersed, that there's a focus, and that's why I'm encouraging and welcome the announcement by Morocco, as well as the expression of interest and engagements that Egypt has been busy with."
The 2030 World Cup host will be decided by Fifa's member associations at next year's congress which will be held in Osaka, Japan.